UTS equipped with Undergraduate and Master programs. Both School and Faculties help us in applying global standard in all disciplines.
The Faculty of Engineering is the faculty with the biggest student body and most various study program options. The faculty offers six undergraduate study programs that are highly relevant to the dynamics of the fast changing  global world as well as the local challenges.  
The faculty is home for young engineers, inventors, and researchers focusing on providing solutions to the challenge of human civilization as well as to the needs of the local community. Responding to dynamic challenges of making life better through engineering and technology. 

Study Programs:
Metallurgical and Material Engineering 
Informatics Engineering
Industrial Engineering
Mechanical Engineering 
Electrical Engineering 
Civil Engineering
It is a strongly interdisciplinary program that benefits from the rich biodiversity and ecological dynamics of Indonesia to knit them into a tailored curriculum that is highly relevant to both the development of the biotechnology field and local challenges. Scholars from this faculty closely collaborate with other scholars from different study programs such as Agricultural Product Technology and Informatics Engineering in cutting-edge research and project aims to provide solutions to challenges at home and at the global level.
Students in this faculty are trained to prepare for joining fast-growing industries such as the food and pharmaceutical industry, as well as further training in Biotechnology

Study Programs:
Biotechnology
Animal Husbandry
Fisheries Science
Faculty of Agricultural Technology
The Faculty of Agricultural Technology is one of the faculties at the Sumbawa University of Technology which consists of 2 Study Programs, namely Agricultural Product Technology and Agricultural Industrial Technology which was established in 2013. Agricultural Technology focuses on the study of the development and application of technology in agriculture with the scope of biological sciences, mathematics, physics, chemistry, physics, management, and engineering in agricultural design, food technology and agricultural products, system analysis and management, preservation technology, and agro-industry. The UTS Faculty of Agricultural Technology in implementing its knowledge is ready to collaborate with various parties such as the government, industry, private sector, universities, research bodies, and other institutions related to agricultural technology. The UTS Faculty of Agricultural Technology is ready to accept qualified prospective students from all over Indonesia to be educated to become competent, professional, and contributive scholars.

Study Programs: 
Agricultural Product Technology
Industrial Agriculture Technology
Faculty of Economics and Business
Businesses are prone to the changing landscape of our global world. New technologies and changes in people's behaviour bring challenges to the sustainability of the business world. Our world is more connected than ever, giving the chance for people in every corner of the world to collaborate. Responding to this, the Faculty of Economic and Business offers a resilient higher education in management, finance, and economics and various global dynamics as well as distinctive local challenges surrounding this dimension. 
The faculty offers students with global knowledge and perspectives in maneuvering the changing landscape of the business and economics world. Accentuating in the solid academic ground and strong analytical thinking, our students are ready to meet the needs of society
While offering students to choose from 3 specialized study programs that are interdisciplinary in nature, the faculty provides students with a strong economic ground.

Study Programs: 
Economics 
Management 
 Accounting
Entrepreneurship
 Digital Business
Faculty of Communication Science
Communication is a very dynamic branch where its development follows the dynamic development of the media landscape, audiens behaviour, technology developments as the medium of communication and development of social, economic and politics of social setting. The connection to the dynamics of social-politics makes Communication Science interdisciplinary, where to study the topics in this field requires the understanding of Politics, Psychology, Humanity, Sociology, Anthropology and tradition commonly used in Social Study.

Study Program: 
Communication Science
Conflicts and problems began to emerge related to human behavior along with the times. To be able to solve problems that arise due to changes or shifts, the Sumbawa University of Technology is quite sensitive to the conditions or environment of the community around the campus in particular and the Sumbawa district community in general. In addition, limited human resources in the field of psychology have further strengthened the Sumbawa University of Technology to open a psychology faculty starting in 2013. The year 2013 became a milestone for the Dea Mas Education Foundation because this year through the Decree of the Director General of Higher Education, the Ministry of Education and Culture Republic of Indonesia

Innovation has become a "mantra" for competitiveness in every field of human practices from governance to entrepreneurship. Responding to these dynamics, UTS' Graduate School offers a Master Program (S2) in Innovation Management. This 2-years master's program is highly interdisciplinary and covers a wide array of fields from innovation in products to innovation in practices, from business to government, from environmental conservation to tourism development.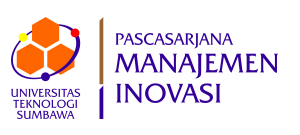 Study program
Innovation Management
Concentration
Product Innovation
Marketing Innovation
Public Sector Innovation