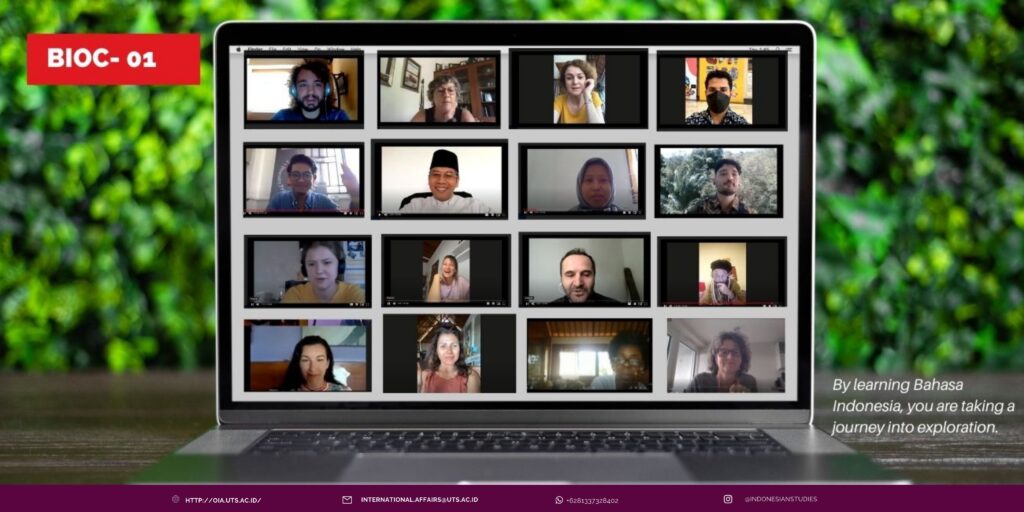 Continuing the international scholarship program for foreign students, UTS Global Ambasssador Scholarship (U-GAS), UTS again gave rise to innovative programs for foreigners. The Directorate of International Cooperation has opened a Indonesian learning program for Foreign Speakers (BIPA) with a cultural and business perspective named Indonesian Online Course (BIOC).
The program combines language learning with an exploration of Indonesian culture and business potential in the country. The program aims to help foreigners who want to learn Indonesian language easily and enjoyably online while increasing their knowledge of the social dynamics, business world and culture in the country.
The learning process is carried out online with participants from different countries and spread in various places. Currently the program has received 24 participants from various countries such as Ireland, UK, Russia, USA, France, Australia and Argentina. They are divided into beginner, pre-intermediate, intemediate, and advanced levels. Some of the participants were business people who were doing their business in Indonesia and Southeast Asian countries. I have an interest in investing in Indonesia.
The founders of the program believed that efficient language learning is learning that is inseparable from context. Therefore, the first segment in business and culture sessions, guest speakers consisting of practitioners in their respective worlds are presented. Mislanya, when talking about the economic potential of West Nusa Tenggara and the acceleration of economic development in the region, the Head of the One Door Licensing Office was presented to be a guest speaker.
In addition, the special staff of the Governor of NTB in the Field of Acceleration of Economic Development was presented to share knowledge about long-term economic development plans in the region.  When the discussion touched on the theme of Social and Environmental Entrepreneurship, the guest speaker presented was the Founder of Yayasan Anak Alam Learning House (https://school.anakalam.id/), Baiq Dewi Yuningsih. Social Entreprise based on permaculture and environment in Mapin Rea has an environmental education-based school where students who attend this place pay with garbage that has been used as eco-brick. This is an innovative intervention that encourages and changes people's behavior in Mapin Rea, especially young people, towards plastic waste and the environment.
The founder of BIOC has a mission that this program is also a meeting room for business activists, social entrepreneurs and other social activities to network and collaborate. As a result, one of the participants who has a maritime education-based business in Singapore with a target market of students and students in Europe is connected with Anak Alam Learning House and also Sumbawa University of Technology. This relationship will bring cooperation in developing field learning based on ecotourism and marine conservation in Sumbawa by involving UTS as a local educational institution that will oversee this program.
UTS itself sees this program as part of the realization of uts slogan grounded and global. BIOC connects global citizens with the development agenda in indonesia's eastern region and UTS's involvement in it. In addition, this program is one of UTS's roles in carrying out soft-diplomacy through Indonesian Language and Culture. More specifically, it is one of the mediums to introduce sumbawa culture and the potential of this area to global citizens. This program is an advanced series of UTS Global Ambassador Scholarship Programs that have been implemented by UTS under the Directorate of Foreign Cooperation since 2020. UTS hopes that these programs will open collaboration with interested parties such as the Ministry of Cultural Education,
Government of Sumbawa Regency, Ministry of Foreign Affairs, and Ntb Provincial Government. The world can be done from anywhere as long as we are observant to see opportunities and dare to innovate.