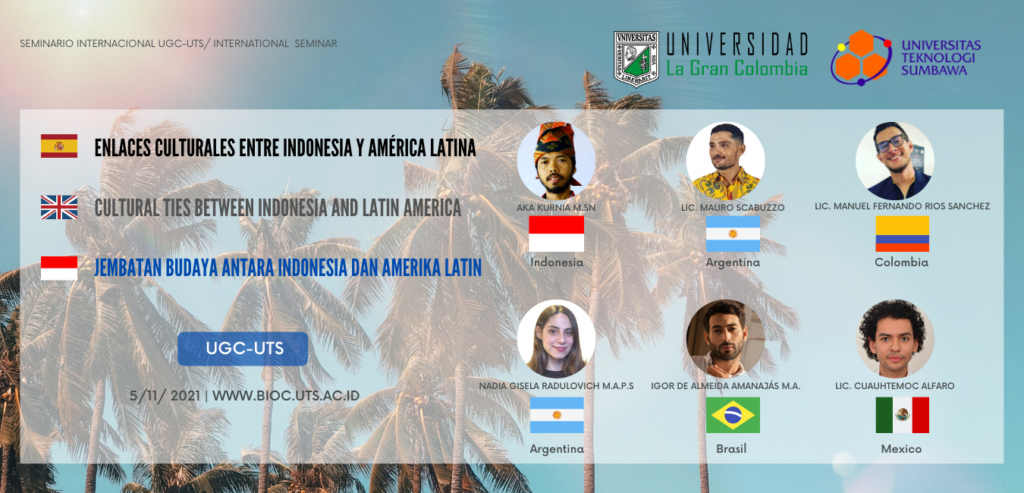 Indonesia and Latin American countries are, geographically, very far apart. However, behind it there are some similarities even interesting similarities. With the theme "Cultural Ties between Indonesia & Latin America, the international seminar was held virtually on November 5, 2021, by the Faculty of Communication Sciences, Sumbawa University of Technology (UTS) with Universidad La Gran Colombia (UGC). An effort to embrace and strengthen the bonds between fellow academic institutions to contribute to the sharing of understanding and exchange of information through cultural approaches. It aims to know the similarities and differences that characterize the two regions so as to produce bridges to connect the two hemispheres and create new opportunities based on mutual understanding.
Uts Rector, Dr. Chairul Hudaya, in his speech said that, "Cultural attention and development is as important as technological development, because culture is the core of community life". "At UTS, we are facing an interesting dynamic where we will soon have a new major, namely Music, Dance, and Indonesian Literature". From Bogota, Dr. Sebastian Valencia Palacio as Director of International Relations, UGC, appreciated the implementation of this seminar even though in Sumbawa it had entered midnight. Through this event, the curiosity of the UGC academic community will be answered and very hopeful that there will be similar activities in the future.
With a difference of about 13 hours, this event presents 6 speakers from 5 countries. Mauro Scabuzzo, a uts innovation management program student from Argentina, delivered material on cultural diversity in Indonesia. In his presentation, Mauro presented a recording of a conversation with Sultan Muhammad Kaharuddin IV. His Majesty explained that the population of Sumbawa after the eruption of Mount Tambora only left 1/3 of the 70 thousand people. Broadly speaking, the people of Sumbawa certainly have to accept the arrival with open arms. Not just for tourism, the most important thing is to teach hospitality.
Sumbawa must still show the original identity of the culture as it is. From the aspect of language, His Holiness gave a view on why there is no 'thank you' in Sumbawa. This is because the Sumbawa people can very well say something with more complete expressions, so the sentence is quite long. Therefore, His Holiness gave rise to the term "Sakaran" which was absorbed from the Arabic language, to simplify the sentence. His Excellency as Sultan of Sumbawa supports UTS because he has had thoughts and thoughts about this development.
Hopefully, UTS is not just a place for Sumbawa people, anyone can come to UTS as can come to Sumbawa.
In addition, Igor Amanajas from Brazil, tells how the Amazon and Bali are related through Balinese Dance and drama. Continued by Catalina Maria Bonilla, from Colombia, presents material about the connectedness of colombian folklore's cultural roots with traditional Balinese paintings. Nadia Gisela Radulovich, from Argentina, spoke about bilateral relations between Argentina and Indonesia. Manuel Fernando, from Colombia, describes the sociolinguistic character of Indonesian. While from Mexico, Cuauhtemoc Alfaro, spoke about the commercial and cultural representation of Indonesia in Mexico.
Ended with an exhibition of photographic artwork by the Dean of the Faculty of Communication Sciences, UTS, Aka Kurnia S.F, about the tradition of 'Barapan Kebo' Sumbawa. Overall, the seminar was conducted in 3 languages; English, Spanish and Indonesian.