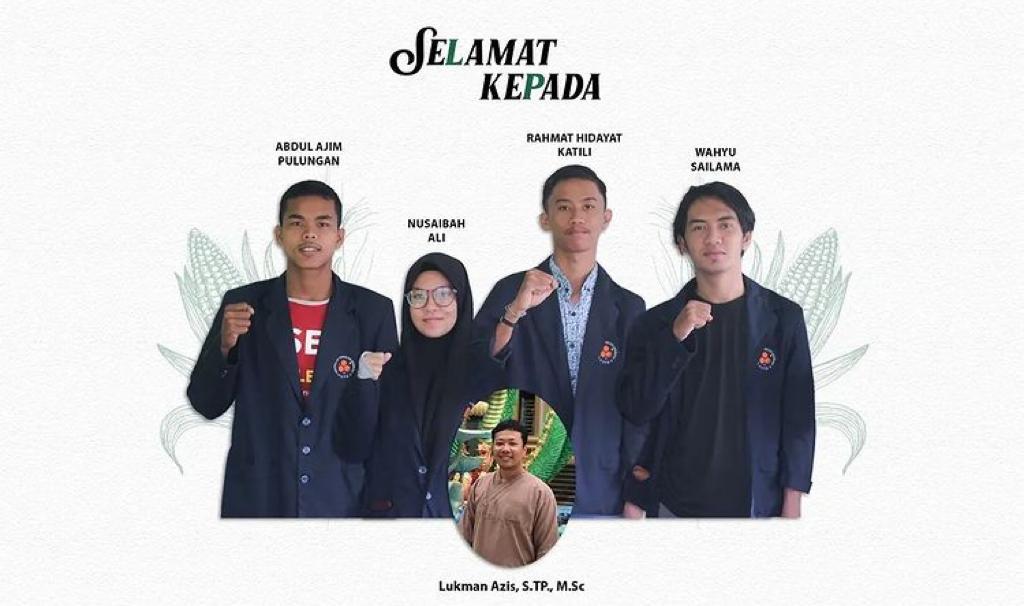 Student Creativity Program or commonly called PKM, is an event organized by the Directorate of Research and Community Service, Directorate General of Strengthening Research and Development, Ministry of Research and Development. In an effort to improve the quality of students in universities throughout Indonesia in order to become members of the community with academic or professional ability. PKM is the first step that must be passed by students to go to PIMNAS or National Student Scientific Week.
Based on the announcement from the National Achievement Center on September 28, 2021, it was announced that Sumbawa University of Technology successfully qualified for PIMNAS 34 which will be held in October 2021 with the host of PIMNAS 34 is the University of North Sumatra (USU). The team that managed to qualify for PIMNAS was led by Abdul Ajim Pulungan (Agricultural Products Technology) and members of the Nusaibah Ali (Industrial Engineering), Rahmad Hidayat (Industrial Engineering), Wahyu Sailama (Industrial Engineering) group chose PKM-PM (Community Service) by raising the title of Utilization of Corn Bonggol Waste as a medium of mushroom cultivation consumption to increase the efficacy of coral cadets tolo'oi village, Sumbawa Regency. With Guidance Lecturer Lukman Azis, S.Tp., M.Sc.
Previously, Monitoring and Evaluation by Dikti to each Team since September 6-18, 2021 to determine which Teams qualified for PIMNAS conducted online.
Lukman Azis, S.Tp., M.Sc expressed his pride at the achievements of the PKM Team that had successfully escaped, he revealed that this can be achieved thanks to the hard work of students who have diligently undergone the process, giving up time off, and really learning from morning and even night on campus for the success of the PKM. "Congratulations to the students. For other students, do not be discouraged and continue to try to explore many things. Hopefully next year, more UTS PKM Teams can compete in PIMNAS."
Meanwhile, Group Chairman Abdul Ajim Pulungan stated "alhamdulilah is very grateful to this point and I am very grateful to the guidance lecturer and PKM team who to this day the spirit spirit still flares and I say to all parties concerned thanks to prayer and support to be able to escape pimnas. Hopefully with the escape of this pimnas motivated for all students of Sumbawa university of technology."
Director of Student Affairs and Alumni Sherwin Ary Busman, MM said that "The achievements of these friends further make the student party encouraged to always be able to facilitate the needs of friends in the race and hopefully more students are motivated to participate in PKM 2022"